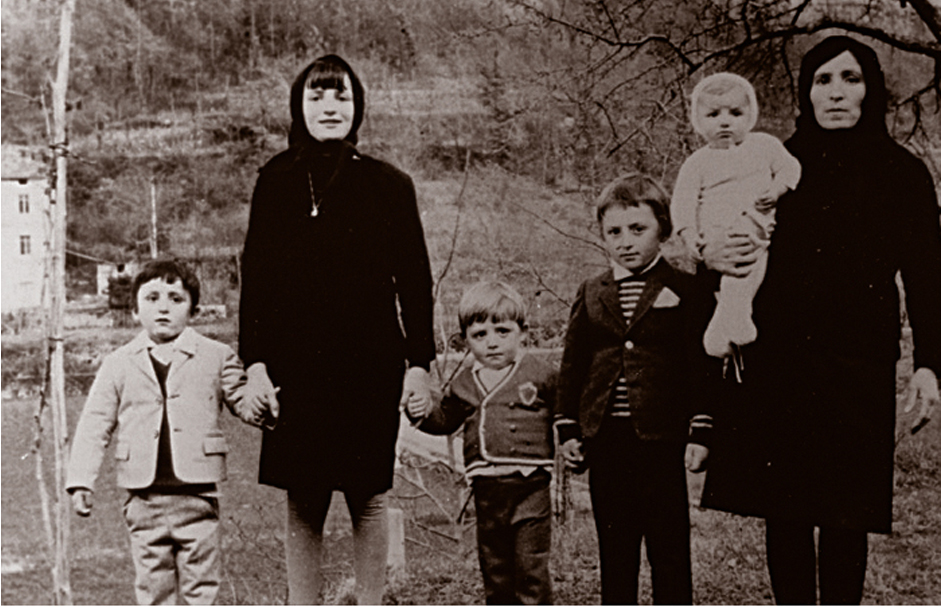 Mamma Rosa and her five children leaving Italy for America (April 1970)
Having made a promise to her husband that their children would make it to America and have an opportunity at the American Dream, Mamma Rosa arrived in New York City with her daughter and four sons in the spring of 1970.
As her children, we'd like to share our story with you…
Though the early years were a struggle, Mamma, by God's grace, always had a way of turning the hardships into opportunities of instilling in us core values through the lessons of life. Through chores and responsibilities, we learned the value of discipline, teamwork, and commitment. We began working early on in our youth, and through the years gained much experience in the pizza industry in New York City. And, by the summer of 1986, we opened our own pizzeria, Famous Famiglia, in the heart of New York City! In the years to follow, we opened several more pizzerias throughout New York City, winning awards with our quality and customer service standards. Hence, the Famous Famiglia brand quickly became a leader in the New York pizza market and earned the title of "New York's Favorite Pizza".
Today, Famous Famiglia operates company owned and has franchised locations across a diverse mix of venues which include leading airports and transportation hubs, malls and shopping centers, colleges and universities, theme parks, hotels and casinos, stadiums and arenas, military bases, motorways, and in-line urban downtown locations. The Famous Famiglia brand currently operates across the United States and Mexico.
The Famous Famiglia story is one of triumph and a passion for the spirit of entrepreneurship. It is also one of a return to the very basic principles of the foodservice industry; serving a quality product, in an efficient and enthusiastic manner, and in a clean and pleasant environment. As the founders of the company, throughout the growth, it has been a consistent vision for us to instill this culture throughout the organization and, hence, Famous Famiglia has become one of the fastest growing pizza brands, and one of the most respected and admired industry leaders. We are committed to continuing on in this tradition. We are very grateful to all our co workers, business partner franchisees, and to our guests for their support!
God bless you,
The Kolaj Family
Management Team
Paul Kolaj – Co-Founder and CEO
Paul Kolaj is Co-Founder, President and CEO at Famous Famiglia. In this role, he is responsible for the overall direction of the company. In August 1986, Paul and his brothers founded the Famous Famiglia pizzeria concept in the heart on New York City. As a strategic business thinker, Paul ensures that the company maintains its focus while delivering results toward its mission. With more than thirty years experience in the field of pizzeria operations, his business acumen with real-world knowledge earns Paul respect in the industry circles.
John Kolaj – Co-Founder and Chief Operating Officer
John Kolaj is Co-founder and Chief Operating Officer at Famous Famiglia. With more than thirty years of hands-on experience in the foodservice industry, John directs all aspects of the company's field operating activities. His responsibilities include: managing the design, construction, and maintenance of all company and franchisee-owned operating units; designing the global infrastructure to support and maintain all procurement logistics and product distribution activities; and enabling and empowering his team of professionals to seamlessly manage training and support activities. From supply-chain and logistics, design and construction, to steady-state operations, John draws from his decades of experience in the pizza industry to help deliver solutions with impressive results. His strategic forethought and precise execution help deliver significant economies and efficiencies in the expansion and support of the Famous Famiglia operating system.
Giorgio Kolaj – Co-Founder and Global Business Development
Giorgio Kolaj is Co-founder and Executive Vice President at Famous Famiglia and is responsible for leading the company's expansion efforts both domestically and overseas, and is responsible for all marketing and communications activities. His role in global business development involves site selection, contract negotiations, strategic relationship management, and brand development. Under Giorgio's leadership, the Famous Famiglia brand has expanded nationwide and across the globe. Prior to re-joining the family business in 2004, Giorgio enjoyed a successful career in the high-tech industry, where he worked at IBM Global Services and later helped launch a successful security software company. Giorgio holds a bachelors degree in Computer Science and Business, with Latin Honors. Giorgio serves on the boards of: D.A.R.E. America; Boy Scouts – Queens Council; President's Advisory Council – Vaughn College; and In Arms Reach.